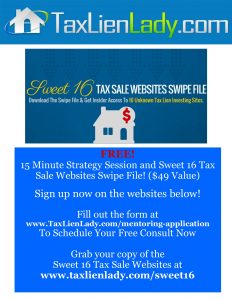 There are 2 very valuable free gifts from TaxLienLady.com. So if you haven't taken advantage of these yet, you might want to do it now…
Get Your Free Gifts From TaxLienLady.com
The first is a free Profit Planning Strategy Session that I offer to anyone who needs help getting started with investing in tax liens or tax deeds. This is for you if you have money to invest in tax liens but you're not sure how to get started. It's especially for you if you know you need help, but don't know which program is right for you.
You may have been to a tax lien investing seminar where you've been pitched a coaching program that costs tens of thousands of dollars. No need to worry about that, it's simply not necessary. I have programs and mentoring services that can get you started for under $1000! And I give you a free consultation to see which is the right program for you. You can get yours when you fill out the form at http://taxlienlady.com/mentoring-application.
I give away more valuable information for free than you'll get at a paid one day seminar. Just check out my blog or my YouTube Channel and you'll see.
The second free gift I have for you when you come to my blog or website is my Sweet 16 Tax Sale Websites swipe file. This is a list of 16 tax sale websites. These are the actual websites that sell tax sale properties in different states around the country. And that's not all, you'll also get my special quick start video and my 5 point tax lien investing checklist! Just go to http://taxlieninvestingsecrets.com/sweet16 to grab your copy!