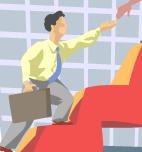 One way you can really accelerate your progress to building a profitable tax lien or tax deed portfolio is with a tax lien investing mentor. Here at TaxLienLady.com we give you plenty of opportunities to get expert help and training for buying profitable tax liens or deeds. But what if you need more than a course. I know from experience in anything that I have excelled at, that the shortcut to success is to have a coach that's been there. A mentor who has done what you want to do.
While I do offer a coaching program I realize that this $5000+ program is not ideal for most of readers of this newsletter for one of two reasons.
For one thing $5000 is more than some of you might have in your budget for investing in yourself to learn how to invest in tax liens.
And for another, those of you who may have that amount to invest don't want to have to coach with someone for a few months to a year in order to invest in tax liens. You want to do it fast than that!
So I have designed a program that is not only more affordable, but also more time efficient. I call the Advanced Tax Lien Investing Secrets Training VIP program – or ATLIS VIP.
With my ATLIS VIP coaching program you get access to all my trainings and courses. And you get 2 and ½ hours of coaching with me. You can even do the all of the coaching in one day if you want! The goal of this program is to get started immediately and to have you purchase profitable liens or deeds in a few days, not weeks or months!
What's The Investment?
The value of this program is well over $6000, but I'm making it available at only $2995 for this week only. Because this is a time intensive program on my part, I can only accept 4 new mentoring students in this program. If you would like to be considered, you can apply by filling in the form at www.taxlienlady.com/mentoring-application, and scheduling a 15 minute consultation with me. I want to be sure that this program is good fit for both of us before you register as this a commitment on my part as well as yours!
Want to get started now at half-price (only until August 31)? Go Here To Register Now!