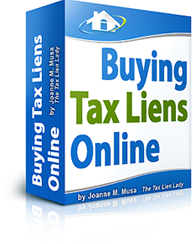 There is a lot new this year when it comes to buying tax liens online! There are more counties with online tax sales and a couple of new online tax sale platforms. In fact the Buying Tax Liens Online home study course has been updated twice in the last month! When I first created this course back in 2009 there were only 5 states with online tax sales, now there are 12! They are all listed in the Guide To Online Tax Lien Sales, just one of the key resources inside the course.
Since the last time we updated this course in 2013, counties in 4 different states have started to have their tax lien sales online. Two of these states will have online tax sales for the first time this year! And these tax sales will happen at the end of this month. Most of them will be on a brand new platform for tax lien investing, that will most likely host online tax sales from other states in the future.
How would you like to have access to these online tax sales?
More importantly how would you also like training on:
How to register for these tax sales
The rules and procedures for tax lien sales in each of these states
How to research the tax sale properties
When and where the tax sales take place
How to bid at these tax sales
How much money you need to invest in tax liens at these auctions
The Buying Tax Liens Online home study course delivers all that and more. It's also just been updated for this year, just in time for the brand new tax sales happening at the end of this month. I want you to be able to get in on the action. That's why I haven't raised the price yet on this course. But it will be going up soon…
I originally created this course with just a couple of videos and the Guide To Online Tax Lien Sales. But now there is so much more included in this course including:
6 separate webinar recording
3 bonus videos
Special Report: "7 Steps To Building A Profitable Tax Lien Portfolio"
Due Diligence For Tax Liens Guide and Checklist
Helpful articles
The Bad News…
I've kept the price of this course pretty low over years – only $297. Even though I kept adding to the course every time I updated it, I kept it at that price. But now I have to raise the price, because this training is starting to have as much content as courses that cost 4 times as much. But don't worry I'm not going to quadruple the price. I'm not even going to double the price of the course, but I am going to raise it by 60%.
The Good News!
The good news is that if you already purchased the Buying Tax Liens Online course, you automatically get all the updates. The course is delivered in it's own members area, so once you invest in it, you get all updates as they're made. And because I want to give all of my subscribers a chance to invest in this course before I raise the price, you can still purchase the updated Buying Tax Liens Online course now at the old price for the next few days. If this post is still live and you can read this, then the old price is still available. You can purchase the updated course at only $297 and get all future updates as they happen. But you'll want to hurry because in a few days I will take this down and raise the price of the course to $497! You can get access today at http://buyingtaxliensonline.com/online-training.