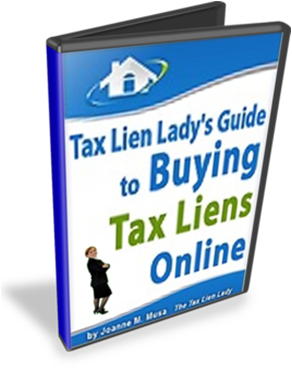 What's new in online tax lien sales?
As you may be aware there are new counties conducting online tax lien sales all the time. And this year there is at least one county in this state that has never had an online tax sale before, conduct their tax sale online. Find out which county in which state is going online this summer! And find out how you can get involved in their tax sales, because not everyone can invest in this state. There are certain criterion that you have to meet before you can invest in this state. Learn what they are. Find out what new counties have tax sales online this summer and how you can participate in them in the Buying Tax Liens Online Course – newly updated for 2017!
I'm now updating the Buying Tax Liens Online course. It was last updated in 2014 and since then, 2 new states have started to have their tax lien sales online, one just this year. All the info that you need to participate in these tax sales will be in the updated version of this course, and if you have already purchased the course, you will get access to the updated version. This course is delivered digitally inside the Buying Tax Liens Online Owner's web site. Whenever I update any part of the course, whether I add a video training or update the Guide to Online Tax Lien Sales with new information, you get it instantly when you log in to the BTLO owners site.
Don't have the course yet? Get in now at BuyingTaxLiensOnline.com and be the first to get the new updates when they're published!