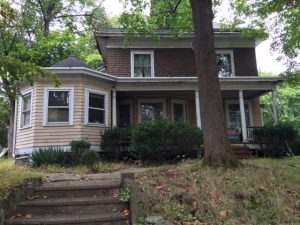 Fall is a season ripe with New Jersey Tax Sales. Actually the nice thing about investing in New Jersey is that tax sales happen all throughout the year. Many of them are online, but the online tax sales are not the ones you want to attend. It's best to go to the live auctions if you are able to attend the live tax sales.
The live New Jersey tax sales are competitive enough. Sometimes at the small tax sales that I attend, there are more bidders at the tax sale than there are properties to bid on! Online tax sales are even more competitive with institutional buyers bidding far too much to be profitable on the liens that redeem (which is what happens about 98% of the time). Many of these companies  count on being able to foreclose on some properties in order to  make a profit. The truth is that they're not getting a decent return on the bulk of their portfolio. The profit that they do make is coming from the liens they sell and the properties they foreclose on and then sell. After all when you purchase thousands of liens you do get to foreclose on some of them.
I attended a very small tax sale today, one that I always go to each year for a couple of reasons. First, this sale is in a small town sale in an out of the way place that doesn't draw all the big players. Secondly, it's near where my parents live, so I get to visit my mom and dad. The original list for this particular tax sale had only 15 properties. By the day of the tax sale there were only 7 properties on the list. Fortunately there were only 2 bidders, me and a bidder from a tax lien investing company that shows up to every tax sale in New Jersey.
I was able to get 2 liens, one at 10% and one at 12%. Basically I got the liens on the worst properties that were in the sale. Don't get me wrong, they're both good liens – on bank owned properties, but on the worst looking properties in town. These are just the kind of liens that I like. But I know better than to think that maybe they won't redeem and in 2 years I might be able to get the property. The liens I purchased were for sewer or water bills, they are utility liens (which is part of the reason that I was able to get them). The bank, no doubt, pays the taxes on these properties, and when push come to shove they will eventually redeem the liens.
Both liens together were only around $650, but it's October, and in another month I can pay the subsequent sewer and water bills for this entire year. (It's last year's delinquencies that are sold at the sale). That means I can put another $650 into these liens at 8%. Where else can you get 8-12% on a small amount of money that's guaranteed by a real asset?
What if you want to get a lot more money invested?
Well you could go to a lot of tax sales. After all there are 550 municipalities in New Jersey and they all have a tax sale once a year (and they're staggered at different times throughout the year). Or you could go to just a few of the larger New Jersey tax sales in the big cites, like Newark, Camden, Trenton, etc. These cities have so many liens in their tax sales that their auctions go on for days.
I choose to go to the smaller New Jersey tax sales and buy the smaller liens, so that I have a chance to get them at decent interest rates (like I did today), and add to my liens little by little over the next 2 or more years. Of course sometimes they redeem in a few months and then I don't get the chance to pay subsequent taxes or subsequent utilities. In today's economy however, I'm noticing that liens are held longer than they were a few years ago. Most of my liens today are held for a year or close to it. And a good deal of them are held even longer.