Discover the secrets for buying profitable tax liens when you watch tax lien investing quick tip video #30 below:
Want to Buy Profitable Tax Liens This Fall?
The 5 steps to buying profitable tax liens are what we go over in depth in the Tax Lien Investing Secrets live training, which is going on right now. During this training I take students by the hand through all of these steps and then some. We are now in week 3 of the fall training and students are getting ready to buy tax liens in upcoming tax lien sales.
Disappearing Investment Opportunities
Today is also the LAST DAY THIS YEAR for one of the special investment opportunities that I only share with my students. This is the opportunity that only happens once a year to invest in a private tax lien fund. It's a totally passive investment and allows you to have experts do all the work for you!
I also have another opportunity just for my students and members to buy secondary tax liens at great rates. In fact, right now I am sitting a few of these liens that students are able to purchase and earn 18% on their money on redemption, or have the chance to own some prime building lots in a sought after community. I'd love to help you to buy profitable tax liens or redeemable deeds so that you can stop worrying about your investments and start having your hard earned money work harder for you! It's not too late to join the training, but hurry as some of the bonuses and investment opportunities will be disappearing soon.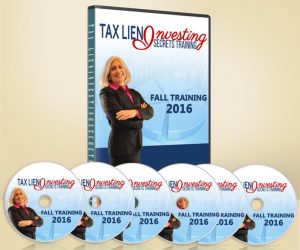 Right now we still have the Tax Lien Manager software bonus (a $399 value) available when you enroll, but that will be going away in a couple of weeks!
You can find out more about this exclusive training going on now during the fall tax sales at http://taxlieninvestingsecrets.com/training.