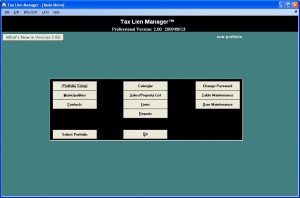 Last month I went to a couple of tax sales in New Jersey and bought a handful of tax lien certificates. You may think that all you have to do to invest in tax liens is go to the auction and buy some liens, then sit  back and wait for them to redeem, but that is not how it works. In a lot of the states the tax collector does do all the heavy lifting – notifying home owners that a tax lien has been sold on their property and collecting the delinquent tax payments with penalties and interest and handing it all over to you when the lien redeems. But there is actually a little more to it than that. In states like New Jersey that actually issue tax lien certificates to the investor, you need to record the certificate with the county clerk. And although you don't have to pay the subsequent taxes, it certainly is in your best interest to do so.
What Are Subsequent Taxes?
When you go to a tax sale and purchase a tax lien, in most cases you when you pay for that lien, you will be satisfying taxes from the prior year, or maybe even the year before that. Current taxes may be due or coming due soon, and there will also be taxes coming due on the property for the remainder of the redemption period. The property owner can pay these taxes without having to redeem your lien, and sometimes that does happen. In many instances, however, if the property owner wasn't able to pay the delinquent taxes they may also not be able to pay the current or the future taxes. As a lien holder to the property, you are able to pay the subsequent tax payment and add them to your lien. When you get to pay them and how much interest you get on your payments varies with each state.
In New Jersey taxes are paid quarterly and the tax lien holder is able to pay the taxes if the property owner doesn't pay them 10 days after the due date. The second installment in New Jersey is due on June 1, and since I bought these liens after June 1, I can now pay 2 quarters of overdue payments and add that to my liens. I get the statutory (maximum) interest rate on my subsequent tax payments regardless of what I bid at the tax sale.
The tax collector has 10 days to mail the tax lien certificate to the investor.  After I receive the certificates, I send them to county clerk to be recorded, with the recording fee of course, and I send an affidavit to the tax collector, stating that I have paid the recording fee. I also but a request in to the tax collector in writing (usually by email or fax) to know what subsequent taxes I can pay. I make those payments and add them to my affidavit before sending it to the tax collector.
Automating Tax Lien Management
All this might sound like a lot of paper work, but I do it all easily because I have a system and software in place to help me. I use Tax Lien Manager™ software. The software tracks all of my liens and when I want to send in the certificates to the county clerk to be recorded, I simply click on a button, choose the county and it spits out a form that lets me choose which tax liens I want to list, and how much I want to enclose as payment. I can also use it to address the envelope if I want. I can get a letter to the tax collector requesting any taxes due on my liens. Again I just pick the county and municipality and can choose which liens I want listed. When I make the payments my software will generate an affidavit for me. All I do is enter the payments into my software.
The software I use is customized for the state I invest in and is currently available only for the following states: Arizona, Florida, Indiana, Nassau County NY, New Jersey, and South Carolina. If you need an easy way to manage your tax lien portfolio and you invest in one of these states then you'll want to invest in this software. It's a$399 for the standard version for one of the states mentioned above, and I'm giving it away free when you enroll in my Tax Lien Investing Secrets Training and use the full pay option!
*Early Bird pricing for the training ends on July 13!