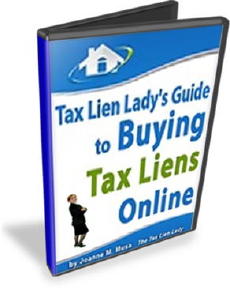 More Iowa Online Tax Lien Sales
Iowa is the tax lien state with the second highest statutory interest rate (24% per annum). Illinois has the highest rate at 36% per year, but the rates in Illinois are bid down, and lately they are getting bid down to 0%. And Illinois counties do NOT have online tax sales. Many of the Iowa counties DO have online tax sales, and even more Iowa counties have online tax lien sales coming up this year.
Tax sales in all Iowa counties are held on the 3rd Monday of June each year for any and all taxes that are delinquent as of that date. The interest rate is not bid down in Iowa and the price of the lien is not bid up, what is bid is the ownership interest in the property. It is the investor who bids the lowest ownership percentage in the property, should the lien be foreclosed, that wins the bid.
You do have to register ahead of time and some counties do require a non-refundable registration fee. If you are using an entity to bid your entity will have to be registered to do business in the state of Iowa, or have a designated agent for service of process on file with the Iowa Secretary of State.
The redemption period for the regular tax sale is 2 years, however delinquent properties that did not get sold in last year's tax sale can also be sold at the tax sale. This is referred to as the public bidder tax sale and properties advertised in this sale have a 1 year redemption period. There can also be special properties that are considered "nuisance properties" that have a 90 day redemption period. At the end of the redemption period the tax lien holder may begin proceedings to obtain a Tax Deed to the parcel.
Regardless of which publication the property is advertised in – whether it is in the regular tax sale, public bidder tax sale, or nuisance property tax sale, the investor is responsible for sending out the 90 day Notice of Right of Redemption 90 days before the end of the redemption period.
Tax lien buyers in Iowa take note: Iowa tax lien certificates have a 3-year expiration. After three years have elapsed from the time of the tax sale, and the holder of a certificate has not filed an affidavit of service under Iowa Code Section 447.12, the Treasurer will cancel the tax sale certificate.
To find out more about online tax sales, where and when they are, and how the tax sales are conducted – plus get training on how to register, do due diligence and bid at these tax sales, get the Buying Tax Liens Online course at www.BuyingTaxLiensOnline.com/main.html
*Note: This is a digital program, nothing is shipped