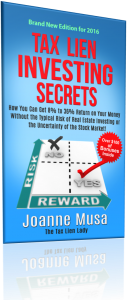 Have you wanted to invest in tax liens or tax deeds but just don't know where to start?
The first thing that you have to do is determine where to invest, and in order to do that you have to know what happens in each state. …
Which states sell liens and which sell deeds?
What is the redemption period and how much interest do you get in each state?
What is the bidding procedure?
These are just a few of the things that you need to know before determine where to invest.
In my book "Tax Lien Investing Secrets: How You Can Get 8% – 36% on Your Money Without The Typical Risk of Real Estate Investing or the Uncertainty of the Stock Market," there is an entire chapter on how to select the best place to invest in tax liens. Inside that chapter there is a section on the 6 things you need to know before you invest. I also include a couple of bonuses when you purchase the book, to help you find the right state to invest in and get the tax sale information.
First, grab a copy of the book while it's 50% off on Amazon – Find out more about the book and all the free book bonuses at http://TaxLienInvestingSecrets.com.
Then, watch this 5 minute video where I show how to use one of the book bonuses to find out which states sell tax liens and which states sell tax deeds and to find the right place to invest.
Get a FREE 20-minute strategy session with me and let's talk about your tax lien investing strategy. Weather your investing in tax liens already or not, I can help you.