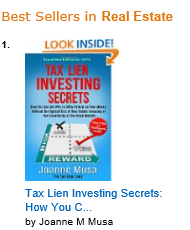 My newly updated for book:  "Tax Lien Investing Secrets: "How You Can Get 8% to 36% Return On Your Money Without The Typical Risk Of Real Estate Investing or The Uncertainty of The Stock Market!" made it to #1 best seller on Amazon in 2 categories – Real Estate and Real Estate Investments!!
I adjusted the price back up to the original price of $19.95, but Amazon has it discounted to $14.96. So if you didn't get the chance to grab it when it was at half price, you can still get it at 25% off!
And here's another reason that if you didn't pick it up when it was half price you might want to get it now…
We just added another unadvertised bonus for everyone who purchases the book, and those of you who already got the book will get this bonus too. It's a live webinar training only for customers who purchased the book. The webinar "Winning Strategies For Tax Lien Investing Success In 2016" will be Wednesday February 10th at 8:30pm Eastern Time.
And here's what I'll be covering in this webinar:
The best strategies for tax delinquent property investing in 2016
How to determine the best place for YOU to invest (using a couple of the book bonuses)
And I'll show you how to find out what tax sales are coming up around the country
If you did already purchase the book – Thank You!! You'll be sent the link to register for this special webinar! If not and you want to join us for the webinar, go HERE to order the book and get your bonuses.