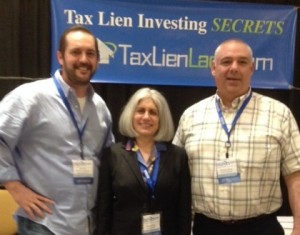 The REI Expo is back to the east coast and so is our 1 day tax lien investing seminar. Come to the REI Expo at reduced cost on Friday October 9th and Saturday October 10th, and then join me and other tax lien investing experts on Sunday afternoon for a one day tax lien investing seminar for free!
Early Bird tickets to the Expo are $125 and $175 at the door.  If you reserve with us, your tickets are only $100 AND we will give you an additional REFUND of $25 just for attending our bonus day on Sunday!!
Our seminar on Sunday, October 11 is from 1pm – 5:45pm so you'll have all morning to relax and unwind after spending 2 days at the Expo. And Tax lien investing is not all that you'll learn about on Sunday. Just look at our schedule:
1pm Investing In Tax Liens and Deeds 101 with Charles Sells of PIP Group. Learn how you can have the best most reputable tax lien and deed investing agents in the industry invest for you in some of the most profitable states to invest in!
2pm Personal and Business Credit Optimization with Merrill Chandler of Credit Sense. Merrill will give you an introduction to 8 simple steps that anyone can take to have an 800+ credit score.
3pm Is Online Investing For You? Learn the ins and outs of investing in tax liens and tax deeds online with Joanne Musa, the Tax Lien Lady, known online as America's most trusted tax lien investing expert.
4pm Investing With Your Self-Directed IRA. Learn how to let your profit grow tax deferred or tax free for life with a self-directed IRA or Roth SDIRA.
5pm Buying Tax Defaulted Properties Direct with Vision Tax Lien Services. Learn how you can skip the competition of tax sales and buy tax foreclosed properties directly for the institutional investors.
I also have a special gift for all of my subscribers that attend the Expo and tax lien investing seminar on Sunday. Just let me know that you're coming to the Expo and seminar and I'll meet with you personally Sunday morning before the seminar. I'll give you a 30 minute live consultation with me to help you with your tax lien or tax deed investing! Just forward your receipt for the Expo to me at info@taxlienlady.com and I'll call you to schedule your consultation. So you'll get $25 and a free consult just for attending the seminar!
CLICK HERE to save your spot now!
Want a little preview of what you'll learn at the seminar? Watch this one hour prerecorded seminar I did with Charles Sells of PIP Group on investing in tax lien in Illinois. Illinois is the most profitable state for investing in tax liens with the potential for earning 36% per year on tax lien certificates! And the tax sale season for Illinois is late fall, so it's coming up very shortly. Get THIS VIDEO to learn more.