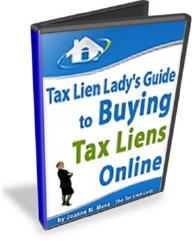 June is one of the busiest months for online tax sales now that over the last 2 or 3 years more counties have started to conduct their tax sales online. There are just a few online tax sales left this month in Florida and Maryland – most of their counties hold tax lien sales in May, but there are a few stragglers that conduct their sale in June. There are tax lien sales almost every day during the month of June in New Jersey, and now some these are online as well. Iowa counties will all hold tax lien sales on June 20, and quite a few of them now have online tax sales.
You can find online tax deed sales in June in New York, California, and Florida. There are also online tax deed sales (know as 'adjudicated property' sales) in Louisiana.
There's still plenty for tax lien and tax deed investors to do in the month of June!
Need some help getting started with buying tax liens or tax deeds online? I've got 2 courses to help you. By Buying Tax Liens Online course contains a guide to all of the counties with online tax lien sales, with links to their websites? You can get one in the Buying Tax Liens Online course, available at www.BuyingTaxLiensOnline.com.
And when you purchase the Buying Tax Liens Online course you also get the opportunity to get my Online Tax Deed Sales program at half price. Both courses are delivered in a members site and come with lifetime updates. Because they are delivered inside a member site you always have access to any updates, but you only pay once for access.