I'm on the bus with Tom and Corey!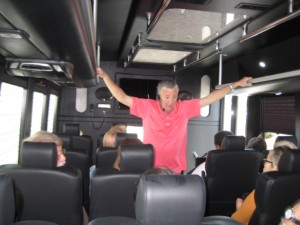 I'm in sunny Arizona, on the OTC Purchase Party and Workshop with the guys from Fortris, and we're all having a great time. We've got 18 investors on the bus with us today looking at OTC properties that Tom has identified for us  with the Research Assistant.
We had a workshop yesterday after breakfast and everyone downloaded the research assistant and learned how to use it to identify the best OTC properties to purchase from the county. Then we had a delicious lunch and got on the bus to look  at the first 3 properties. During the bus trip, Tom shared some of his strategies and case studies. When we got off the bus everyone was talking about how much they learned the entire day, both on the bus trip and in the workshop.
What an education!
And that's just the tip of the iceberg. We've got a boot camp coming up In Atlanta, May 1-3, where we'll teach more strategies for making money from tax delinquent properties.
I'll be joining my buddies Tom DiAgostino and Corey Taylor from Fortris LLC for their Special Operations Mastery Bootcamp in Atlanta Georgia, May 1-3. This is a comprehensive 2 day, tax lien investing boot camp where you'll learn different strategies for making money on tax delinquent properties including:
How to get tax deed properties directly from the owner and avoid the bidding war at the tax sale
How to contact motivated sellers
How to buy the best leftovers after the tax sale
Strategies for getting the property
Strategies for high returns without the risk of the stock market
Strategies for a quick profit on your tax liens
This live 2 day workshop includes these valuable resources:
Elite Tax Sale Training Manual (A $597 Value) – This 80 page manual takes you through the process of figuring out what type of investor you should be, and then reveals previously unknown Tax Sale strategies step-by-step! Regardless of your experience or location, you can find unbelievable deals that you can wholesale or find equity or JV partners. Trust us and you will see why this is the best deal source on the planet you never knew about.
10 Live Videos (A $799 Value) – This is 10 videos of of OVER THE SHOULDER training as we uncover each strategy and how to implement them successfully. We provide real-life experiences, successes and struggles so you can start right away and skip our years spent figuring out what to do and what not to do!
Complete Audio of the video Instruction (A $199 Value) – You can listen to the complete DVD collection on audio anywhere.
Annual Wealth Roadmap (A $795 Value) – Each month Tom & Corey share their analysis on where to narrow the focus for purchasing Liens or Deeds throughout the US. This process helps you establish where to buy in the best spots any given month. Once this roadmap is complete and customized for your investment style, you simply follow it each year for Generational Wealth! It's simply rinse and repeat.
Best Location Case Study (A $795 Value) – Follow along as we walk you through lien purchases and deed purchases in our favorite fishing hole. Details of the calls, the forms, the timing, the renovations, everything to see how it comes together so you can do it too!
Research Assistant (A $297 Value) – The Automated Research Assistant software is the virtual assistant you always wanted and could never find! She's on-time, fast, consistent, nice, easy to tell what to do, cheap, and can get all the necessary data from the country so you know what properties are on the delinquent tax list you want to invest in!
Forms – Everything you need (A $995 Value) – This has everything you need to start communicating with counties, researching with diligence checklists, wholesaling deals, presenting properties to private lenders, marketing to motivated tax lists as well as buyers for your properties! Don't re-invent the wheel, just do what we do and make money.
Quick Start Video (A $250 Value) – One hour video with Corey that gets you started making deals right away! We want you to be successful straight out of the box and this overview explains what you'll be doing to find great properties.
Weekly Group Q&A Calls (A $799 Value) – Each week we hold a Fortris Focus Friday group call to cover training updates and answer Command Center members questions on any topic, renovation, private money, IRA investing, tax sales, deals, talking to counties, anything needed to keep moving in the right direction! These calls are pre-recorded and made available online!
6 Months Command Center Access (A $250 Value)  – Access to the Command center includes: The Collaboration Center to communicate and partner with hundreds of other members! The Research Center for checklists, a national tax sale directory map, and other tools for completing thorough diligence. The Tax Sale Center with a Calendar of almost every auction in the US and most property lists attached FOR YOU! Also see VIP training from Tom and Corey to stay on Top of the Market.
All this training plus more for $2397!
This special boot camp is only 2 weeks away and we do have a limited number of seats left, so if you would like to attend CLICK HERE TO ENROLL NOW! And bring your spouse or business partner for free!