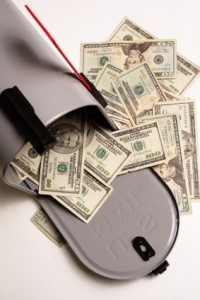 I've recently come across a unique opportunity to make money with judgment liens that will allow you to:
– Claim your stake in a $2 TRILLION dollar industry and have next-to-zero competitors for your deals.
– Make money without buying, selling, or renting a property. (This works in commercial, residential, even land.)
– Turn just $1 into a very large profit (up to tens-of-thousands) with very little work.
– Start this week with just a few short hours of training (no license needed) with no previous experience and no financial risk.
– Invest only a few hours from your computer… even while watching TV. (And earn at least very nice $2,000 finder's fees.)
I've met a very smart individual (he has two MBA degrees – in finance and in real estate) who uncovered this incredible and unusual strategy.
His name is Mike and for over 20 years he has bought and sold hundreds of judgments that require little or none of his owe money. What's most exciting is that he's perfected the art of making money from judgments and liens.
If you are unfamiliar with the concept… a judgment is a legal document stating that a debt is owned from one party in a lawsuit to another.
A lien is a concrete legal assertion that you have a claim of a special value against certain property.
The market size for this strategy is HUGE with an average of over 350,000 judgments in each courthouse in every county and over 50,000 new judgments created each year in every courthouse.
Following Mike's proven model, you can make money on property that you never have to buy, sell, or rent. In fact, when you follow his methods for tapping into this "lien and judgment" market you can "out smart" the competition, close more transactions, and make more money.
In fact, Mike has created three different ways for you to make money:
1. You take an option on a judgment where you reserve the "right" to buy the lien at a specific price from the creditor, and keep the difference in profits. (You can take an option for just $1, have complete control and have no risk because can walk way at any time.)
2. You can find a deal and outsource it to Mike's company. You simply find a judgment (Mike will show you how), send it to Mike's office to do all the work, and make 25% of the profit when they close. You earn a large profit by following some simple steps to find a judgment, and fill out some forms. That's it!
3. You can earn $2,000 finder's fees sending deals to Mike. You find the creditors with judgments, send them to Mike's team and instantly get paid upfront for every deal that purchase.
Next Wednesday Mike will join me on a training webinar where he reveals all the details on earning large profits from judgments and liens to make money in real estate without buying, selling, or renting a house – and without money, credit, experience, or license.
You can earn large sums of money with no-risk one dollar options… and a few hours of your time.
There are a couple of dates and times to chose from, select the ONE time that works best for you:
Here's just some of what you'll learn on Wednesday's webinar with Mike…
1. How to tap into a $2 Trillion industry that will never go away and earn a huge income in real estate while never buying, selling or renting a house. You don't need money, credit, experience or a license.
2. You can do this in all 50 states and Canada and make money from the court systems. Mike even has many students who live in foreign countries who are making money on these judgments in the U.S.
3. Three proven business models to make money in judgment liens. You'll discover how to do these deals yourself (with a $1 option)… or how to outsource the deals for 25% of the profits… or earn an immediate $2,000 finder's fee. You decide which method you want to use to get paid.
4. Why these judgment deals are the safest way to make money in real estate (both residential and commercial) with no financial liability or risk on your part.
5. The fastest way to get started in the next 7 days. You simply find a judgment, flip a deal to Mike's office, let them do all the work and you get paid!
6. How to find these deals on your computer while you're at home watching TV, and earn a $2,000 or more.
7. How to get these judgment deals with no marketing expense whatsoever. Mike will show you
where to find these deals from your computer.
8. Where to access the 350,000 average potential judgment deals you can find in almost every
courthouse in every county… directly from the county courthouse's website.
This is an amazingly simple system with next to zero competition that takes very little effort.
You just follow the steps that Mike lays out and make money. You can earn a substantial finder's fee of $2,000 immediately (for simply doing some research on your computer), or make a whole lot more when you share in the profits. Still, Mike's team does all the work.
You can get all the details on the Webinar that I did with Mike and you can select the date and time that works best for you:
Click Here to chose your time and register now!