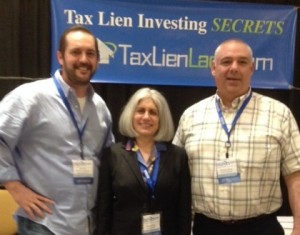 Rich Sells of Platinum Investment Properties Group, Joanne Musa and Bill Musa of TaxLienLady.com at the REI Expo in National Harbor Maryland.
I had a great time at the REI Expo in National Harbor Maryland this past weekend (May 17-18). I've been to a few REI Expo events but this was the first time that TaxLienLady.com was a sponsor of the event and had our own booth.
I always enjoy meeting and networking with Expo attendees and the vendors, but this time I got to be one of the vendors. I always get to meet some awesome people – some that are new to real estate investing and are looking to get started and some that are seasoned investors looking to keep up with the industry, and to network with other investors. I also get to meet some real experts in different aspects of tax lien and tax deed investing that I know will be helpful to my members and subscribers, and I'll be sharing what I learned with you in the near future!
I even got to meet some TaxLienLady.com subscribers and it's always a pleasure to be able to put faces and real people to the names that we send e-mails and newsletter to. I got to catch up with a couple of Tax Lien Lady members, answer their questions in person and get to personally introduce them to agents and services to help them. If you're looking for an IRA custodian, insurance for your investments, to set up an LLC or trust, to keep up with what's happening in the real estate market, or connect with local investors, the REI Expo is the one event where you can get it all done!
Local real estate investing meet up groups are always well represented at the Expo and this one was no exception. I connected with a couple of local REIAs and I'm sure that I'll be in the area speaking to them in near future – or at least before next year's tax sales in Maryland, since this years tax sales are going on now and some of them are over.
Most of the vendors at the Expo give away valuable prizes and I raffled off 5 copies of my new Kindle book Tax Sale Investing Secrets: How You Can Get Double Digit Returns On Your Money Without The Risk of the Stock Market. Winners will be announced in the next couple of days, but if you weren't at the Expo and didn't get in on the raffle, you can grab your copy on Amazon at http://amzn.to/1l9Gs4X.