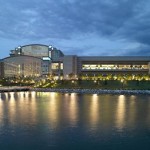 This Saturday and Sunday, May 17-18, I will have a booth at the REI Expo in the Washington D.C. area. To find out more information, or to register, use this link: http://taxlienlady.com/reiexpo.
I will be having drawings and special pricing on some of my courses.  Save $500 on my Build Your Profitable Tax Lien Portfolio Home Study course or $100 on my Buying Tax Liens Online course. These savings are available only at this REI Expo.
The price of the expo has gone up to $200, but because I'm a vendor at the Expo this time, I can give you a 25% discount coupon. So you can 25% off and get your ticket for only $150! Save $50 with this special coupon code: PROMO25. Just go to http://taxlienlady.com/reiexpo and put in the coupon code when you check out.
I hope to see you in Washington D.C.