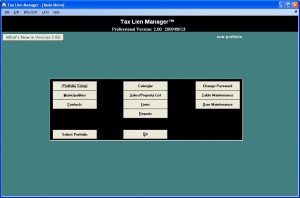 Are you looking for a better way to manage your tax lien portfolio and automate your tax lien investing?
Tax Lien Manager™ is an all-in-one system that simplifies the business of investing in tax lien certificates an manages your tax lien portfolio for you!
In a special complimentary webinar – "Automating Your Tax Lien Investing With Tax Lien Manager™ Software," with Kathe Bettis of Data Ventures I, LLC. Kathe demonstrated how you can automate the entire business of tax lien investing using Tax Lien Manager™.
With TLM you can:
Download tax sale data right into the software program to track tax sales and liens or redeemable deeds
View a calendar of sale dates for lists that you have downloaded
View tax due dates, redemption dates, and foreclosure dates on the calendar
Print a due diligence report to help you do your due diligence on tax sale properties
Calculate how much premium you can pay for each property in the tax sale
Print out a bid sheet to take to the tax sale
Keep track of what your competitors are paying for liens
Transfer purchased liens to your portfolio at the click of a button
Track assignment liens
And that's only the beginning. You can also print out letters, forms and affidavits that you need to manage your tax lien portfolio, link property photos, and other property information to each lien. Plus print out detailed reports to track your redemptions, foreclosures, and profit. Tax Lien Manager™ streamlines the entire process of investing in tax liens or redeemable tax deeds. It's user friendly – you don't have to be a computer wiz to use it.
TLM is available in 2 versions:
The standard version is tailored to the single user investing in one state, and the professional version is tailored to a multi-user environment with multiple portfolios and investments in one or more states. Both versions are available for Arizona, Florida, Indiana, New Jersey, South Carolina, and Nassau County, NY.
Watch this complimentary replay as Kathe Bettis demonstrates Tax Lien Manager™. Just click on the link to go directly to the webinar http://TaxLienLady.com/TLMdemo/TLMdemo.html.
Tax Lien Manager is the easy button for tax lien investing.  If you invest in any of the states listed above you've got to watch this webinar! http://TaxLienLady.com/TLMdemo/TLMdemo.html.