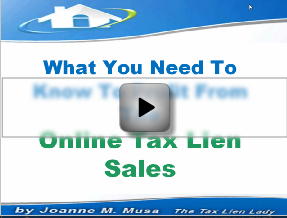 Most of the Arizona online tax lien sales are over!
The last of the Arizona online tax sales  to close this season – Mohave County, will be over in a couple of days. If you missed your chance this year for the online tax sales in Arizona, don't worry, there are other online tax sales going on now and more coming up this spring.
Douglas County – the only Nebraska county so far to have an online tax sale, is going on now, and will close in the first week of March. Baltimore City Maryland opens up their online tax sale in the middle of March and the sale doesn't end until May. There's plenty of time to register for that tax sale, as May 9 is the last day to register. It's actually better to wait until after the end of April to register and do your due diligence for the Baltimore tax sale, since April 30 is the last day for property owners to pay their taxes and take their property out of the sale.
There are three New Jersey tax sales that are open now and bidding ends some time in March. And then there are all the Florida counties that have online tax sales in May – over 50 of them! Spring is a very busy season for online tax lien investing and it's just around the corner.  If you need help with your online investing check out the Buying Tax Liens Online course. It includes a guide to online tax lien sales that lists all of the counties that have online tax lien sales in each state – with links to the online tax sale websites and summaries of the tax sale procedures for each state that has online tax sales. Find out more about the Buying Tax Liens Online course and get a free webinar replay "What You Need To Know To Profit From Online Tax Lien Sales," at www.BuyingTaxLiensOnline.com.
If you'd really like to streamline your investing and make it easy to manage your tax lien portfolio in Arizona, Indian, Florida, or New Jersey, then you have to check out Tax Lien Manager®, the software that helps you manage your portfolio. Tax Lien Manager® is available in a standard or professional version for each of the above mentioned states You can find out more about Tax Lien Manager® at www.TaxLienLady.com/TLM/mainpage.htm.