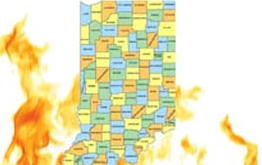 The Same But Different
So what's different about the upcoming Tax Lien Investing Conference in Chicago?
And what's going to be different from our last conference in Baltimore Maryland?
Our theme this year is 3 Ways To Profit From Tax Liens in As Little As Six Months. And in our Baltimore Conference I did a training on investing in Maryland tax liens, since they have a redemption period of only 6 months. But this time since the Maryland tax sales are over, I'll do a training on tax lien sales with short redemption times.
In Chicago, we'll still be talking about ways to Profit faster from tax lien investing, but we'll be in Illinois, the most profitable tax lien state. The PIP boys will tell you all about Illinois tax sales AND how you can buy secondary Illinois tax liens that are ready to foreclose now.
Arnie Abramson from Texas Tax Sale Resource Group will be joining us again to talk about Texas redeemable deeds, which also have a redemption period of only 6 months.
You'll also learn about Georgia redeemable deeds which have a one year redemption period.
We'll also have 2 or 3 other speakers that I'll tell you about when we get closer to the conference. So stay tuned and reserve your space now at www.taxlieninvestingtips.com/tax-lien-investing-conference