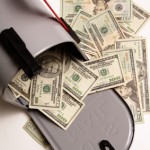 Investing in tax lien certificates is an excellent way to get high returns on your money with a measure of security that you can't get in the stock market. Of course you need some money to invest in order to make any money with tax liens or tax deeds. And the more you have to invest, the more you can make. So I am always looking out for ways to make more money to invest in tax liens!
That's one of the reasons why I'm here in Huntsville Alabama at Rhea Perry's Small Business Conference. The other reason is that I really like Rhea and her teaching style. I've been a member of her Book of the Month club for a few months now, and I'm really enjoying her monthly webinars as well as the other educational webinars that I've watched and listened to leading up to this conference.
This is the second day of the conference and I'm having a great time. There are drawings for give-aways each day, and yesterday I won an Android tablet! I brought my husband here with me and he is really enjoying all the speakers as much as I am. At this conference we're learning 15 ways to make money from home and 3 ways to invest. The 3 ways to invest don't include Tax Lien Inveting, so I'm learning other ways to invest money as well. Allthough I love tax liens, I'm not opposed to diversification when it comes to investing!
Each of the speakers have been hand picked by Rhea and each of them are financially free. Some of them are not professional speakers but are just talking about what they did to become financially free and how you can do it too. Of course there are some professional speakers here as well. Some you may have heard of, like Larry Goins, Tracy Childers, Mike Steward, and Ray Edwards, and I am really learning a lot.
Don't feel bad if this is something that you wish you could have done but either didn't find out about it in time or for some reason couldn't make it to Huntsville Alabama. I say that because I know that Rhea is recording the whole thing and when I find out how and when she'll be making it available I'll let you know. In the meantime I just want to say hello from Huntsville and I'll be reporting back and giving you more information about what I'm learning here when I get back.
Encouraging You To Profit,
Joanne