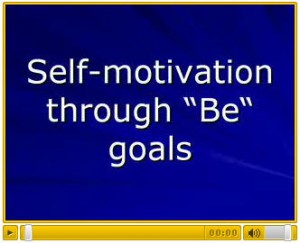 Who you are is more important than what you do…
Goals that describe who you are or who you want to become are more motivating than goals about what you want to do or have.
Here's a short 1 minute clip from my friend Arnfried of BeMotivatedToday:
http://www.bemotivatedtoday.com/content.asp?pageId=246&refcode=71058
In this video clip Arnfried introduced Be Goals and here's more information that he shares about setting your Be Goals.
Be Goals are personal character goals or virtues such as being a person of integrity or a hard worker. (These are not very measurable yet)
Be Goals can be related to your career – being a hard worker – or related to relationships – being a great spouse, parent or friend. They can also cover your whole life – being a teachable person or having a winning attitude when facing challenges.
You set Be Goals by identifying virtues that are highly valued. There are many virtues so you choose 3 to work on at a time. As you achieve those choose 3 more.
For Example: Below is a list of 10 virtues that I consider my top priorities:
1. Integrity
2. Loving spouse
3. Loving parent
4. Hard working
5. Selfless
6. Fair
7. Gracious/patient
8. Teachable
9. Pro-active
10. Loyal
Now I make them measurable.
1. Integrity – I never lie, cheat, deceive people or take what is their's.
2. Loving spouse – I meet all my spouse's legitimate needs. (Get feedback monthly to evaluate)
3. Loving parent – I meet all my children's legitimate needs. (Get feedback form kids and spouse monthly to evaluate)
Now I work on these. I may need make plans like scheduling one-on-one time with my spouse or children. I may need to budget to take my wife out to dinner at least once per month and buy flowers regularly.
As I follow my plans and think of ways to achieve my Be Goals, I slowly become the person I want to be.
Be all you can be.
Want to receive these encouraging and inspiring emails?
Register for a 14-day FR'EE Trial of the Daily PEP-Talk at http://www.BeMotivatedToday.com/71058. Watch a short video and download an e-book on releasing your potential and a report on a unique way to help you create a passive income that actually works. Visit http://www.BeMotivatedToday.com/71058.